What do you think of my new shoes?
A couple of different times, while cruising through BlogLand, I've seen where ladies have spray painted their shoes. And I thought... "ooooooh, I want to do that too." And so I did.
I got a pair of $10 white flats at Walmart, and a can of Krylon Blue Ocean Breeze (Gloss) spray paint. I cut off the little ties that were there, and added the bias tape bows.
Don't they look like something Snow White would have worn? Or better yet... Little Bow Peep?
I'm linking up here... be sure to go there and check out all the other awesome ideas.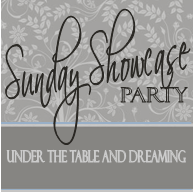 This project was FEATURED here...